Winteria will soon launch a handheld weld quality scanner – Winteria FLEX™
Winteria are developing a handheld weld quality scanner together with Liebherr Excavator Division in Colmar, France. The handheld scanner, Winteria FLEXTM, will be launched during 2019.
Martin Engman, CTO at Winteria: "We have listened to our customer needs and have tried to come up with a technical solution which not only satisfies the expressed needs, but also raises the bar of technical performance".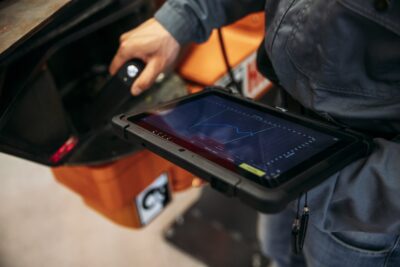 Guillaume Elbel, Head of Simulation Group at Liebherr: "We have chosen to work with Winteria since they have an innovative technical solution which solves a relevant challenge in the manufacturing industry"
Winteria FLEXTM will enable quality assurance in design applications not accessible with a robot. With this product we therefore increase the flexibility of our system and we believe that Winteria FLEXTM will enable new market segments for Winteria.
Winteria FLEX™ will be on field testing during the autumn of 2019 and available for delivery by the end of 2019.
Are you interested in the Winteria FLEX™ and want to be an early adapter? Contact us
Stay tuned for more updates!